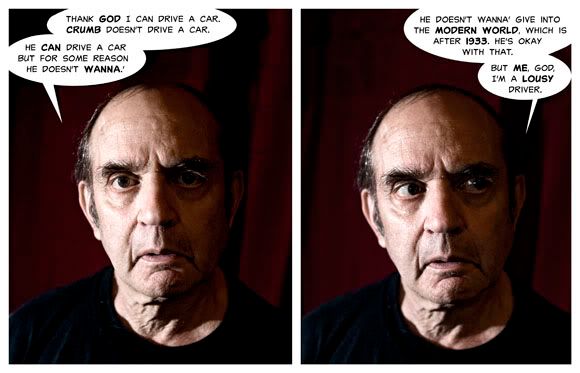 Words: Christopher Irving . Fumetti: Seth Kushner

Harvey Pekar sits in a comfortably worn plush chair in the Brooklyn Lyceum, the start of the second day of the King Con, where he's a guest, there to promote
The Pekar Project,
his venture into a territory where he's completely lost – the Internet.
Harvey Pekar— the everyman file clerk from Cleveland who loves old records and write comics about things as mundane as unclogging a toilet, or as serious as dealing with cancer in his comic
American Splendor
; who was catapulted to cult stardom with the biopic of the same name that garnered attention for lead actor Paul Giamatti, after a short stint as a recurring guest on Letterman. Just minutes prior, Harvey was hamming it up for a camera, clicking away at his casting out exaggerated emotions on his distinctive face; at one point he joked "I can only parody myself at this point."
Because, despite his tendency to ramble off into tangents, Harvey Pekar is not an "angry brooder" or a curmudgeon.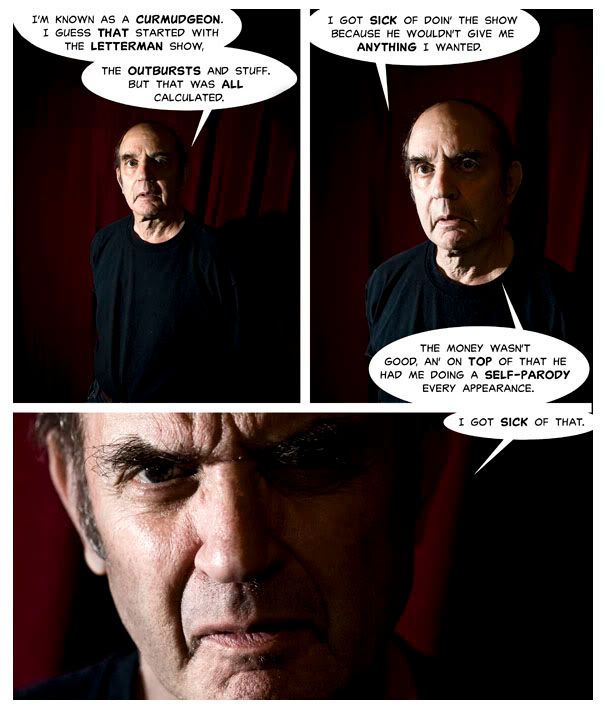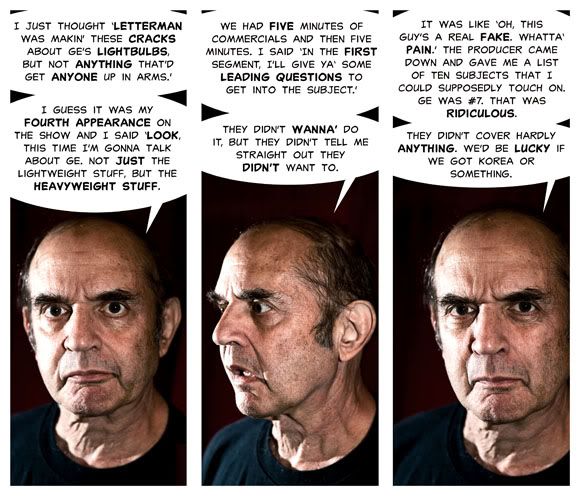 On July 31, 1987, Harvey walked onstage at the Letterman show wearing a t-shirt that read "On Strike Against NBC". He looked tense, wired, and ready for a fight, his eyes wide open, ignoring Letterman's condescending probing of "You more relaxed now?" You seem a little more laid back" Then he asked Harvey how things were in Cleveland, and Harvey responded 'That's a stupid question…you're trying to bait me." Then Letterman sticks his nose into an offer for a TV pilot that Harvey turned down.
"It's a drag to go on night after night doing simple-minded bullshit," Harvey explained to Letterman as a reason not to do it. And, then when Harvey's getting ready to start on his serious issues, David cuts to a commercial; when it comes back, Harvey's yielding a stack of notecards and trying to get to his point. In the exchanges, he jokingly tells Letterman the host doesn't read much, and then Letterman comes back with a "This is a guy writing comic books telling me I don't read much," while waving his copy of American Splendor. Harvey goes through his list of G.E.'s shadiness, blowing the smirking David off, to the point that yet another commercial break is called. When they come back, the hyper Harvey, waving his arms angrily, eventually cools off enough to walk off the stage with Letterman as the show closes and the final credits roll.
Even after the blow-up on Letterman, Harvey was called back a few more times.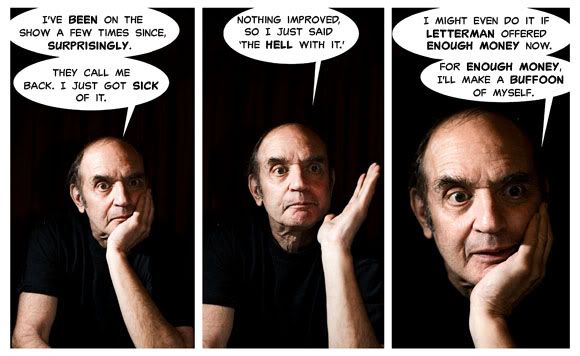 "When you live in Cleveland, it's hard to transcend," Harvey admits of his hometown. Part of the appeal behind his autobio comics are that they do take place in one of the most uneventful cities in existence, where mundane, everyday occurrences are the pinnacle of excitement – and all there is to write about. By reading about Harvey Pekar the everyman file clerk (now retired) and his neuroses, it's easier for us to relate through the boredom of our own everyday lives.
In the '70s, Pekar's friend, former neighbor, and fellow jazz fanatic, underground cartoonist Robert Crumb, encouraged Harvey to tell his stories in comics form. First given birth in stick figures scrawled out on paper, Harvey's first story "Crazy Ed" were metamorphosed into a comic book story in Crumb's
The People's Comics
. By 1976, Harvey was writing his life story in stick figures, illustrated by an assortment of artists, for his self-published comic
American Splendor
.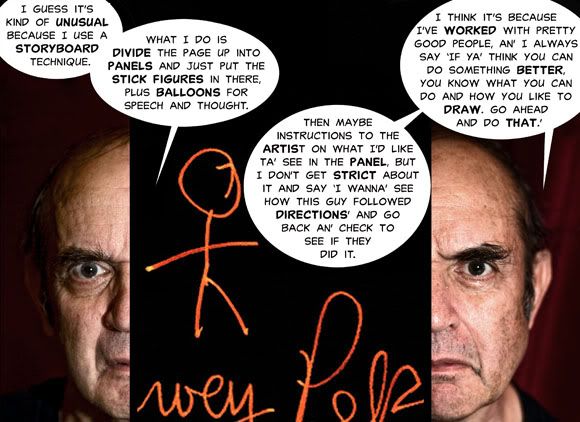 American Splendor
came out sporadically over the years, garnering Harvey an American Book Award in 1987, a year after the Letterman debacle. Harvey started the '90s with a near life-ending experience: lymphatic cancer. Harvey and his wife, Joyce Brabner, chronicled Harvey's bout with cancer in the 1994
American Splendor
graphic novel,
Our Cancer Year
.
Recovering from his illness, Harvey jumped to Dark Horse Comics to publish new
American Splendor
, and then found his way to DC Comics/Vertigo. Along the way, he picked up more contributors, such as Frank Stack,
Josh Neufeld
and, in particular,
Dean Haspiel.
His association with the Brooklyn cartoonist was the catalyst for the
American Splendor
film in 2003.
American Splendor,
the movie, starred Paul Giamatti as Harvey, with Harvey and Joyce even appearing in interview segments throughout the movie. It was life imitating art and art imitating life so well that it garnered awards and nomination, as well as putting Harvey in the spotlight again.
Making the shift to DC/Vertigo, Harvey teamed up with Haspiel to produce
The Quitter,
the life story of Harvey Pekar's formative years, back when he had hair and before he became a file clerk. Dean's slick inkline and bold design elements illustrated Harvey's trials and tribulations as he picked fights, got canned from jobs, and endured the heartbreaks every young person does – but in the inimitable and poignant way that only Harvey Pekar can. While
Splendor
was Harvey Pekar in the now, The Quitter lifted the curtain to show the drama of his growing into manhood, both held back and pushed even further by his failures to finish college, play on the football team, or stay in the Navy.
Dean's art renders Harvey's story in possibly the most dynamic manner it's ever been told, infusing a bit of Jack Kirby into Harvey's memoirs, whether it's in Harvey's lofty position as neighborhood street fighter, or amongst the stacks of files in the V.A. hospital.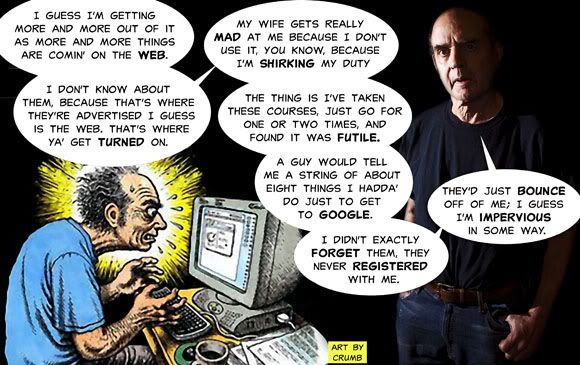 Harvey Pekar is a writer. He writes comic stories of his life through stick figure thumbnails.
Harvey Pekar is not a technological maven.
"I don't like to mess with technical stuff, I'm just a total wash-out that way," Harvey . I wish I wasn't because it's given me a lot of problems in my life."
It's ironic that Harvey's current project, appropriately titled The Pekar Project, is an online comic on Smith Magazine. Smith has been in the forefront of producing webstrips with a success rate to print: past strips include
Shooting War
,
AD: New Orleans After the Deluge
, and the anthology strip
Next-Door Neighbor
.
"They have a pretty good record of selling their projects after they're shown on the Internet," Harvey points out. "I'm hoping that when we get them all done we can sell them as a book."
Approached by Smith Mag editor Jeff Newelt through comics networker extraordinaire Haspiel, Pekar writes his autobio strips for a group of four artists to alternate drawing – Rick Parker, Tara Seibel, Joseph Remnant, and Sean Pryor – each with a different style and visual approach towards Harvey's work.
Seibel's style evokes a child channeling later period Picasso, through use of crayon and with a loose line, with vibrant patches of color; Pryor's subtle stippling gives a grit to his subtle contour line; Remnant uses a dead-weight outer line on all of his forms that, with his mastery of forced perspective, gives an eye-popping experience; finally, Parker's classic style slips in bits of modern collage and coloring, but still feels like it belongs in a baby carriage in Haight-Asbury.
Harvey admits that
The Pekar Project
is no different from
American Splendor
, but it is – at the most, Project is bite-sized pieces of Harvey's unique narrative idiom, bought at an online restaurant rather than a print one. Feeling like
Splendor
is a strength, though, giving it the familiarity of a phone conversation with our old pal, Harvey Pekar, catching up on Oscar the Amazing Baby, free stale potato chips, or what a pain in the ass sweeping cat litter into a dustpan is.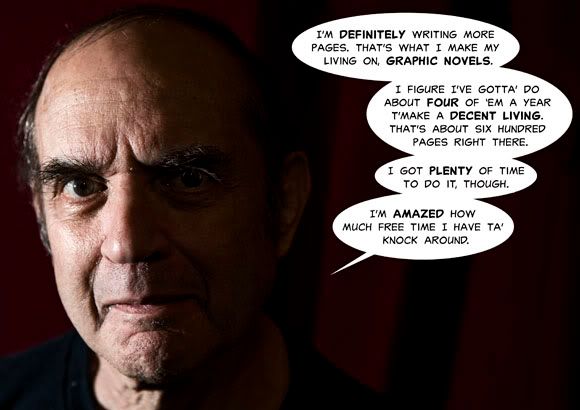 And busy Pekar has been. Unfortunately, he hasn't reaped all the benefits of his hours of work yet.
"I did something that was real American Splendor style. I finished it. It was a book that had four biographies in it and was about some interesting and unusual people that I know. I sent it in and it was accepted by Random House and it was supposed to come out in September. I followed up and asked the guy just before it was going to come out – 'Is this coming out or what?' – and found out that they had pushed it back two years. I would be the vehicle for getting the story over, narrating it, and friends of mine would be the main characters. It was a graphic novel, each story about thirty-five pages.
"It's called Huntington, West Virginia on the Fly. They pushed the publication back because they were having problems like a lot of publishers, and maybe they weren't having good advance sales. It might have been because of the title because people couldn't tell what the book was about. I kind of like the title, but I could see where it couldn't sell any books; people could be confused by it until they could pick it up."
Huntington isn't the only project on hold for Harvey Pekar. His list includes his much-desired biography of Lenny Bruce.